Stage
Increase the visibility and professionalism of your next event with a Special Event Services Stage System. We have two stage systems to choose from:

Versalite Stage System is a predominantly indoor stage that ranges in height from 8"-32". Versalite can easily reconfigure into multi-level stages, runways, graduation stages, speaker platforms, and much more.

Vision Stage System is an adjustable height indoor/outdoor stage that ranges in height from 3'-7'. Vision is ideally suited for situations where the terrain is not level or there is a need to span immovable obstacles.

Both stage systems are priced at $50.00 per 4' x 8' section.
Additional options to our staging include: Stairs, Skirting, Ramps, Guardrails, White-Out Effects, Backdrops and Runways.

What size stage do I need?:
When deciding what size stage you need there are many things to consider including the size of the venue in relationship with the stage, number of people and nature of the activities taking place and audio-visual equipment surrounding the stage. The height of the stage is also very important for the audience's visibility. See our "Event Planning Tools" for more information.

 
Stage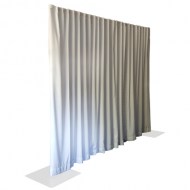 Call for Pricing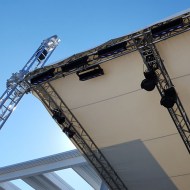 Call for Pricing